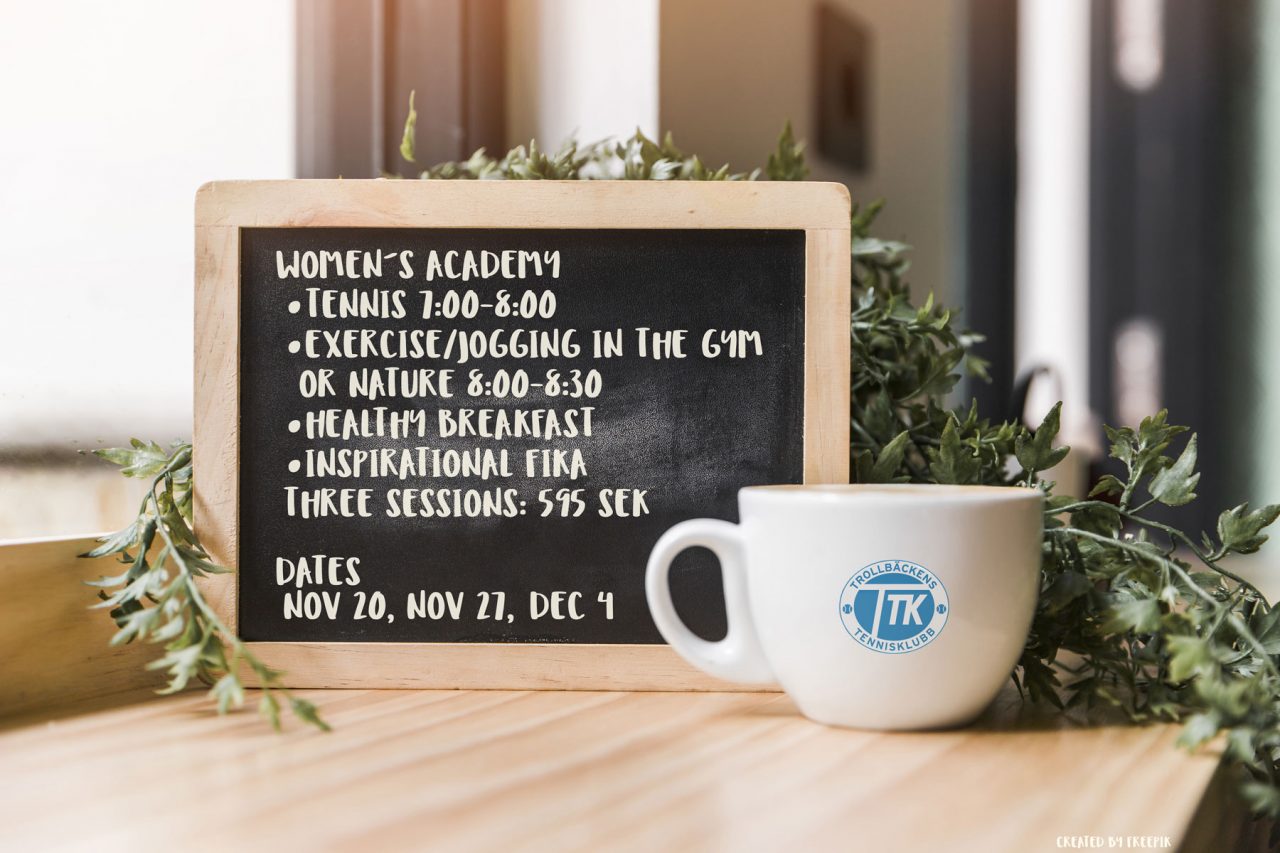 Dear tennis player,
On Tuesdays (Nov 20, Nov 27 and Dec 4) we women start the day with Tennis at 7.00-8.00, following with a running session in the nature or a fun gym session that ends with stretching and breathing until 8.30 with Dilara Yurtkuran, who is a professional player and a PTR (Professional Tennis Registry) certified coach from Turkey. 
Membership
Tennis 7:00-8:00

Exercise/jogging in the gym or nature with Dilara 8:00-8:30

Healthy breakfast (optional)

Inspirational fika

Three sessions: 595 SEK
Sign up before November 16 by sending an email to Dilara. 
Plan week 1, November 20
TENNIS
Introduction

Warm up

Forehand and backhand groundstroke

Drills

Game play
FITNESS
10 minute running/walking (depending on your level)

10 minute exercise (legs and gluts)

10 minute stretching and breathing technique
BREAKFAST
Oat and fruit bowl

Avocado- egg toast

Smoothie
After shower/sauna and relaxing we will have a healthy breakfast and talk about how we can improve our health on the physical and emotional level, exchange some tips and rituals and inspire each other. Or just a breakfast to go! (Optional)
In 2019, we will on a monthly basis host a guest speaker who will give us insights of wellbeing, nutrition, and connecting better with ourselves and bodies, and increase the energy level throughout the day, which will help us to unleash our potentials.
Each week we have a different theme, drills and exercises to improve your tennis, fitness and embrace a healthier lifestyle.
An email will be sent before every session, so you will know what we will be working on that day so you can come prepared and have questions during the session.
Also, if you're interested, an individualized program of tennis, fitness and nutrition will be available.
Sign up before November 16 by sending Dilara an email. You can write in Swedish.